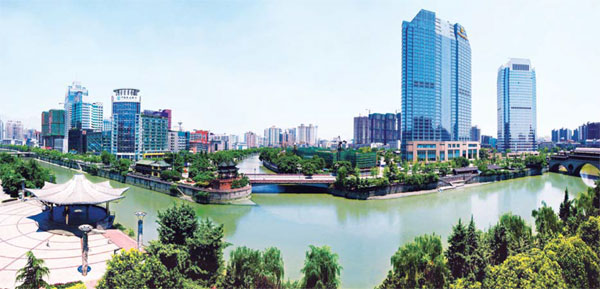 By Peng Chao (chinadaily.com.cn)
The 2016 Chengdu Global Innovation and Entrepreneurship Fair  kicked off in Chengdu, capital of Sichuan province on June 24.
The event had more than 500 participants from home and abroad, including government leaders, Nobel Prize winners, academicians and world-renowned scientists, university presidents, diplomats, entrepreneurs and investors.
The fair aims to become an international platform that gathers innovation and entrepreneurship resources from around the world and boosts the exchange of innovative ideas and the transaction of innovative achievements, according to Gou Zhengli, deputy mayor of Chengdu.
Gou said the three-day event includes 18 major activities: 12 high-level forums that focus on the development trend of innovation and entrepreneurship, one exhibition that displays the world's latest scientific and technological achievements, three trade fairs for innovation and entrepreneurship resources, and two innovation and entrepreneurship contests.
Lu Tiecheng, director of Chengdu Science and Technology Bureau, said top scientists from home and abroad in such fields as semiconductor lighting, fundamental particle, artificial intelligence and astrophysics were invited to the event to discuss the world's frontier science and technology.
The 2016 Chengdu Global Innovation and Entrepreneurship Exhibition covered a total area of 15,000 square meters and feature 300 exhibitors. A series of the latest innovative products were on display, including Pneumatic Tubes, the light-field camera Lytro Illum and Lily Drone, according to Wang Xin, deputy director of Chengdu Exposition Bureau.
Three fairs are planned for the transaction of talent, equity investment and technological achievements. The Talent Trading Fair  invited 70 Fortune Global 500 companies, leading head-hunting companies, top local companies and scientific research teams and universities, all aiming to boost the exchange of top-level talents.
The 2015 Chengdu Global Innovation and Entrepreneurship Fair drew more than 200 delegates from 30 countries and regions. Some 109 deals worth 5.32 billion yuan ($808 million) were signed during that event.