Finrenes receives Horizon 2020 seal of excellence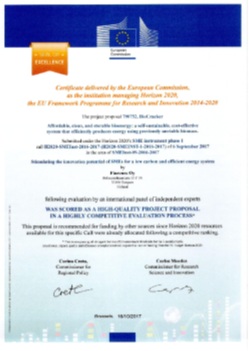 Finrenes Oy has received Horizon 2020 seal of excellence.
Certificate delivered by the European Commission, as the institution managing Horizon 2020, the EU Framework Programme for Research and Innovation 2014-2020 The project proposal 790752, BioCracker Affordable, clean, and storable bioenergy: a self-sustainable, cost-effective
system that efficiently produces energy using previously unviable biomass.
Submitted under the Horizon 2020's SME instrument phase 1 call H2020-SMEInst-2016-2017 (H2020-SMEINST-1-2016-2017) of 6 September 2017 in the area of SMEInst-09-2016-2017 Stimulating the innovation potential of SMEs for a low carbon and efficient energy system by
Finrenes Oy
Finland
following evaluation by an international panel of independent experts
WAS SCORED AS A HIGH-QUALITY PROJECT PROPOSAL
IN A HIGHLY COMPETITIVE EVALUATION PROCESS*
This proposal is recommended for funding by other sources since Horizon 2020 resources available for this specific Call were already allocated following a competitive ranking.
* This means passing all stringent Horizon 2020 assessment thresholds for the 3 award criteria (excellence, impact, quality and efficiency of implementation) required to receive funding from the EU budget Horizon 2020.